At our school, every Wednesday and Friday we like to meet up with students to take part in Yoga classes together, promoting wellness and joy.
We feel the body, our breath and all our thoughts in the here and now. We feel our experience in Florence up to the deepest part of us. We breathe in the air of this new city, this experience, and we savor it.
Our lives are often accelerated, we don't have time to listen. Let us take this time to fully enjoy this new air in which we are immersed and new friendships. Let's open up to the new and be grateful for what life is giving us. We breathe in this new experience so that it remains in our skin and heart forever.
We understand that coming to study in another country can bring mental challenges. Meeting new people, speaking a different language, and finding your way around a new place. So, we would love to help you appreciate every moment of this experience and to help you in moments of difficulty.
The classes are designed for all abilities and bring everyone together.
Yin Yoga
Yin Yoga, originating from China, is a simple but intense practice that stimulates the vital energy in the meridians. A Yin Yoga class usually consists of a series of long-held, passive floor poses that mainly work the lower part of the body – the hips, pelvis, inner thighs, lower spine. These areas are especially rich in connective tissues. The poses are held for up to five minutes, sometimes longer.
The purpose of Yin Yoga is therefore to relax the muscles and stimulate the connective tissue by applying optimal tension for a certain time and maintaining deep breathing. In this way, the tissues stretch, strengthen and open slowly, creating more space between the joints, improving their movement and making them firmer, stable and strong.
The benefits
Yin lessons are focused on observation and listening. When one enters a position, all distractions are let go and attention is given to the present moment, thus developing the ability to feel movement within non-movement, to perceive the sensations of the body or the emotions that emerge (anxiety, happiness, sadness), and to feel the breath, with the mind and heart.
And so, arises anything you suppress with the on-the-go busyness in your life. Yin yoga gives you the time and space to allow those feelings to be there. Emotions, thoughts, feelings you have kept in the shadows.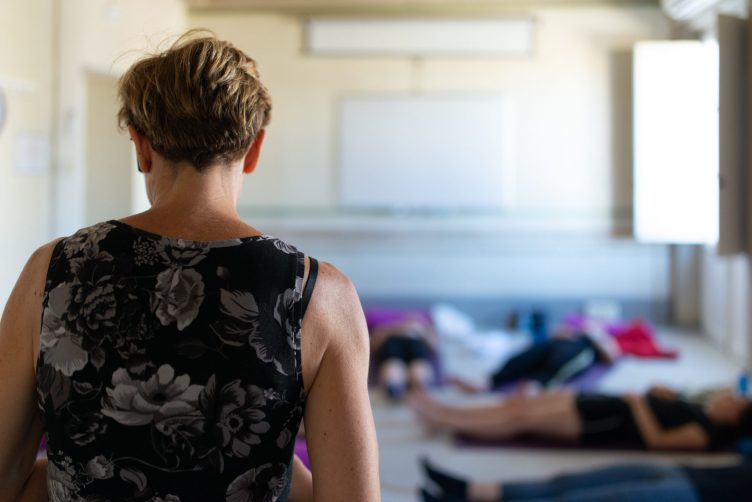 Ashtanga Vinyasa Yoga
Ashtanga Vinyasa Yoga is both a dynamic and meditative practice which focuses on asana (posture) pranayama (breath control) and vinyasa (the linking of postures by breath and movement). Our Ashtanga Vinyasa Yoga sequences work with the synchronization of deep, rhythmic breathing and movement and induce both the elimination of toxins and the purification of the body.
The benefits
It has the capacity to de-stress and reshape the body and to keep our circulatory system fresh with oxygenated blood. Ashtanga Vinyasa Yoga has also been described as "mind medicine" since it allows us to attain deep levels of mental peace and tranquillity. It is a method of bringing life and vitality back into the areas of our bodies that had been previously restricted or blocked. But also, awareness of the deeper, inner parts of ourselves.
The atmosphere and equipment
We provide all the necessary equipment such as the yoga mats and bolster cushions (a cushion to help stretch muscles). Yoga blocks are also offered and can aid certain positions that need more lift, or to balance, stretch or release tension. Additionally, a relaxing atmosphere is well prepared by lit candles, the use of incense, and appropriate temperature and lighting. The correct equipment and ambiance create positive energy and serves as a foundation for your ultimate relaxation and mindfulness.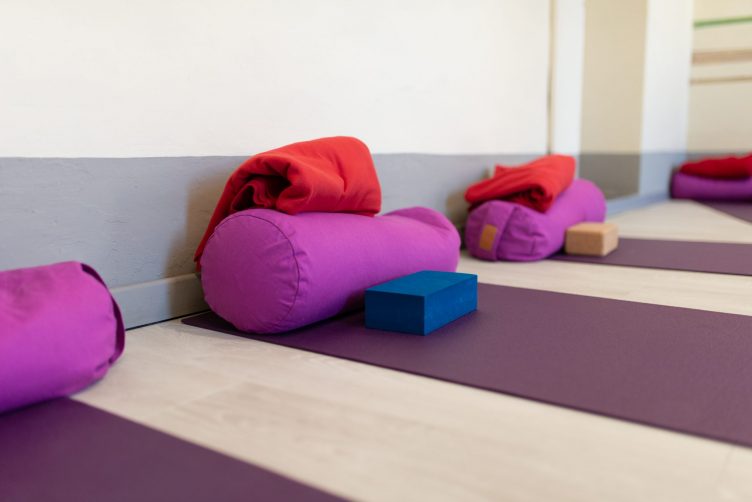 Definitely, a different way to learn Italian
Yoga at Europass is the perfect way to learn new Italian vocabulary and to experience language learning in a unique and tranquil setting. You will acquire specific vocabulary from the names of positions, muscles, and body parts. After combining language learning with yoga, you will be prepared for your Italian lessons the next day and explore this whole experience in Florence with an open mind.
Personal experience from a Europass student
"My name is Georgia, and I am a student here at Europass. I started to practice yoga for the first time here. I saw an advert posted in reception and I decided to give it a try with some other classmates. Being a complete beginner, I didn't know what to expect, but I was pleasantly surprised. We did a practice called 'Yin Yoga.' And it really helped me to become more mindful and calmed down my initial worries when moving to a new country. Yoga taught me to not judge these worries, and to accept them. I found that as the weeks went on, I became more present in my daily life, and I began to appreciate this experience even more than I already did."
Join us every Wednesday and Friday evening to relax and refresh your mind!