How does Europass Agile work?
Europass Agile is a self-paced course dedicated to reaching a specific Italian language level.
Each course lasts 4 months, which is the necessary time to achieve a new proficiency level.
Once you have subscribed, you will be put into a class of students of the same level of proficiency in Italian, and you will receive the credentials to access our e-learning platform.
Every week of Europass Agile includes:
online activities that you can work through at your own pace, uploaded on our platform for e-learning (approx. 3 hours);
live stream with our tutor, who will explain the week's activities, provide the solutions to the exercises, and answer your questions (1 hour );*
free access to your class' forum, where you can meet other students that are taking the course with you, and discuss with them the assigned activities.
*If you miss one live streaming don't worry! You can catch up by watching the recording whenever you prefer.
How to enroll?
Check the next starting date for a course of your level below (elementary, intermediate, upper-intermediate).
Complete the enrollment form and click on the level you would like to attend. After you've completed the form, you will be directed to the Paypal* payment site in order to proceed with the payment.
* If you don't have a PayPal account, you can pay with a credit card on the same site.
 Some days prior to the course starting date, you will receive instructions and login info to access the online course. 
Online tutors
Our Italian teachers are all native speakers and qualified language teachers with several years of teaching experience. They will guide you through the online activities on our platform.
Prices & levels
Four months = +1 level
Each week: 3 hours of online activities and 1 live streaming.*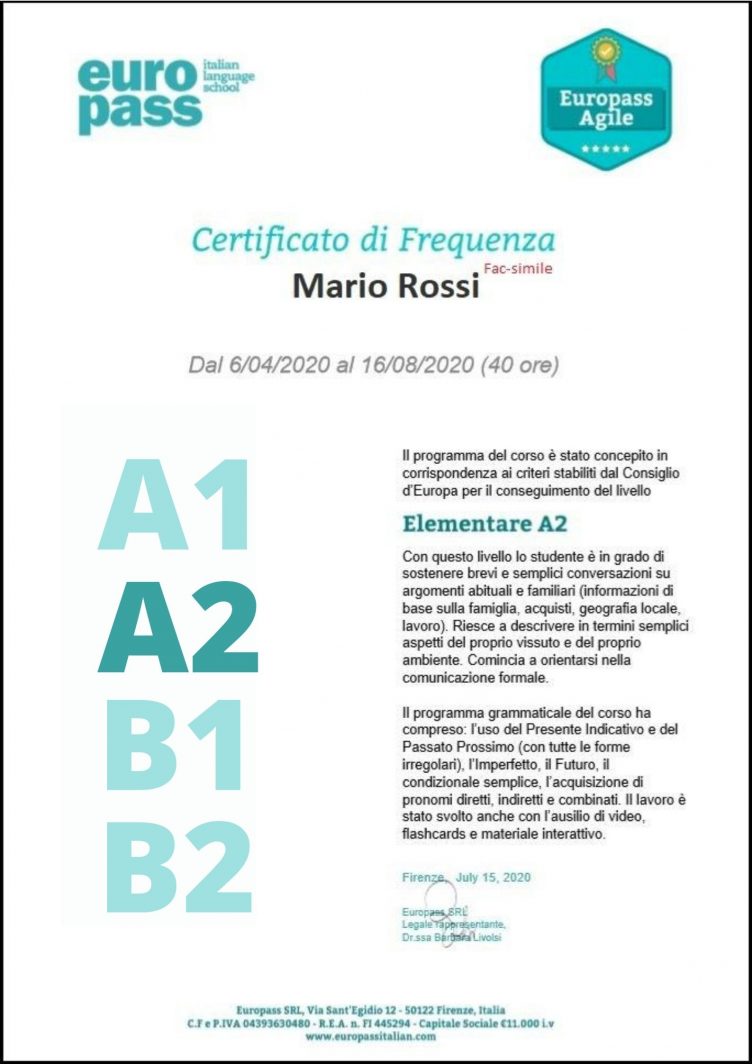 | CEFR level | Price | Next starting date** |
| --- | --- | --- |
| A1 | Beginner Certificate Course | 99€ |  4th of January 2021 |
| A2 | Elementary Certificate Course | 99€ | 19th of October 2020 |
| B1 | Intermediate Certificate Course | 99€ | 19th of October 2020 |
| B2 | Upper-Intermediate Certificate Course | 99€ | 7th of September 2020 |
Discover more about the different CEFR levels. If you don't know your level you can take our online test, and we will advise you as to which course is best for you.
* The subscription to Europass Agile includes a 10% discount on both our Online Private Lessons and our Online Group Courses. The discount is valid for the whole time you are enrolled in Europass Agile.
**It is possible to access the course and catch up with the class at any time within the four weeks following the starting date.
As someone who has experienced both the in-classroom and online courses, it is safe to say that Europass excels in a true and effective Italian language learning experience. I have completed courses from levels A2 to B2. The courses are the perfect blend of developing linguistic skills and appreciating Italian culture, as well as gaining the confidence to take charge of your own learning experience. The whole Europass community is the friendliest I've come across and I'm able to easily contact them for any advice or queries! I'm so happy with my experience and I can't wait to return in person!
Tatiana and Layla make the live stream great and I like having an ''Agile'' structure and being flexible at the same time. I also like the combination of everyday life in Italy, vocabulary, grammar, and the way you incorporate exercises is pleasant. Comfortable, modern and a bit playful.
My learning experience with Europass online has been great, the online platform provides an easy, set-by-step guide to learning Italian from home! Each week brings a new and interesting topic, which allows for the practice of grammar alongside aural and written Italian, with plenty of fun facts along the way. Thank you Europass for giving me this opportunity!
Online now, in Florence next year!
Book any of our online courses and get 20% off on your course in Florence for 2021.
Details & conditions
Lessons available for levels A1, A2, B1, B2
4 hours a week (3 of activities and 1 of live streaming)
Starting dates all year round
Length of subscription: 4 months
Starting dates*
A1 > Beginner | webinar on Thursdays at 2pm
4/01- 8/03 – 10/05 – 12/7 – 13/9 – 15/11
A2 > Elementary | webinar on Friday at 3pm
19/10 – 4/01- 8/03 – 10/05 – 12/7 – 13/9 – 15/11
B1 > Intermediate | webinar on Thursdays at 4pm
19/10 – 4/01 – 8/03 – 10/05 – 12/7 – 13/9 – 15/11
B2 > Upper Intermediate | webinar on Friday at 4pm
7/09 – 23/11 – 4/01- 8/03 – 10/05 – 12/7 – 13/9 – 15/11
*It is possible to access the course and catch up with the class at any time within the four weeks following the starting date.
More information and details
Each course includes. evaluation of Italian knowledge level, learning material, certificate of attendance, free access to our platform.
Minimum number of participants: If for one of the above-mentioned starting dates the minimum number of participants is not reached, you will be contacted and the course will start one or two weeks later.
Subscribe to Europass Agile