As they learn Italian they will get a better understanding of the world, learn about different cultures and ways of life and maybe even get better at their own native language. Learning Italian as a child can be fun, there are hundreds of different songs, games and activities, and we here at Europass have found what we think are some of the best resources available to teach Italian to your children.
Websites
Muzzy BBC
Muzzy BBC is a wonderful resource for teaching Italian to children of any age. It is the most popular website for teaching Italian in the world used by both parents and schools. There are 12 different lessons. Each one starts with a short subtitled video, which is followed by games and activities which reinforce the grammar and vocabulary that has just been learned. The videos are very simple and easy to follow but are perhaps better suited to younger children, they also repeat a lot of the vocabulary making it easier for children to pick up new words. Each video is about something different with themes ranging from shapes and colours to parts of the body. The major drawback of Muzzy is that it is more expensive than other resources, after a week long trial for $1.00, a month's subscription costs $9.95, 6 months costs $49.45 or a year's subscription costs $89.95. However, it might be worth it as you get all the videos, 2 films, 190 vocabulary games and 20 songs.
The picture dictionary
The picture dictionary is a free online resource which is perfect for teaching your children some Italian words. There are 15 different courses, including clothes, colours and animals, and within each topic there are around 20 words that a child can learn. Some of the words are slightly strange and specific but others are more useful and important. Each different word is accompanied by a picture, and while the website seems slightly dated it is useful nonetheless. The Picture Dictionary is slightly limited as it only teaches vocabulary, although this may be more suitable for children who just need to get a basic understanding of the language, but this website is best used alongside another more comprehensive one. There are also a series of games, like filling in the gaps, but they are slightly harder than other games available and so are better suited to slightly older or more advanced children.
The Italian Experiment
The Italian experiment is a free online resource with popular children's fairy tales translated into Italian, with stories like Little Red Riding Hood or the 3 Little Pigs, which can help children to familiarise themselves with Italian grammar and vocabulary.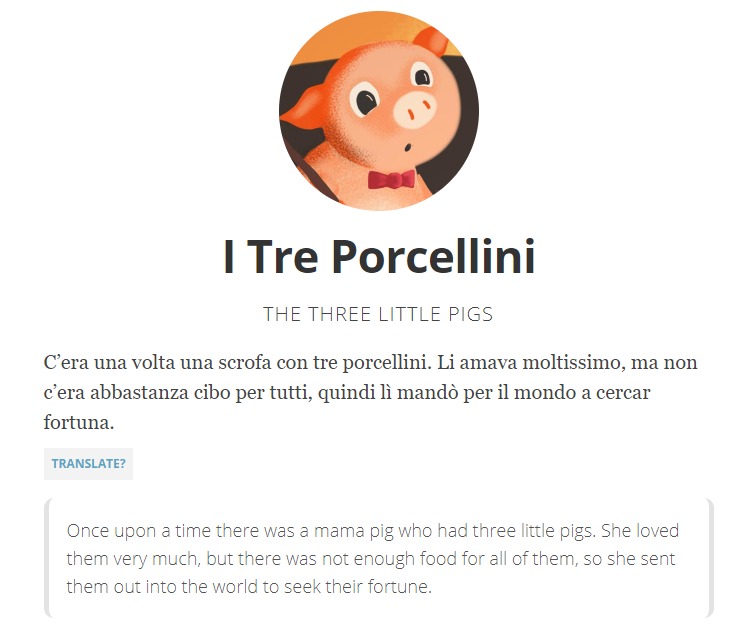 Alongside each fairy tale there is an audio file, which only lasts about 10 minutes, and transcript and so children can listen to the story or parents can read it to them. Each fairy tale has  lovely pictures and an English translation making each story very easy to follow and understand. The stories are perfect for children of all ages, those who can already read and want to improve their grammar and vocabulary, but also for younger children who just want to listen to improve their language.
Chillola
A great and free online resource for teaching vocabulary to children. As with many of the other websites it teaches vocabulary using different photos and games. The site itself is very easy to use, and there are a variety of subjects that children can study – like animals, family, food and colours.
This website is also good for slightly older or more advanced children because there are also more complex subjects like Italian history and culture. Perhaps the most unique aspect of this website is that there is also a large range of activities related to each lesson, like colouring sheets or fill in the blanks, that parents can download and give their children to help them consolidate the words they have learned.
Apps
Kids Garden
Kids garden is a very fun and useful app for teaching young children Italian. Through games and puzzles children can learn a large range of simple Italian vocabulary, and as such will be able to have a basic level of Italian; there are 180 different games and puzzles available which teach vocabulary about a range of themes including food, the alphabet, and animals. This app is very interactive and user friendly and is perfect for children, with good pictures and animations and simple and easy to understand games. Another great aspect of this app is that children can hear each word being pronounced by native speakers and so can listen to how each word should be pronounced.
The major downside of this app, however, is that in the free version there are only a selection of games available to play, the premium version only costs €3.50 and contains a much larger range of games, although considering the quality of this app it is probably worth it. Kid's Garden is available for IOS on the App Store and for Android on Google Play.
Learn Italian by MindSnacks
Mind snacks is perfect for slightly older children who already are able to read and write, and have at least a basic grasp of the Italian language. The app is very fun and easy to use, it teaches over 1000 Italian words and phrases using 9 different fun and addictive games. This app is more effective in its teaching compared to others, because it recognises and repeats the more difficult words and uses games focusing on the spelling.
This app is also slightly different to the others mentioned as it begins to teach some of the more basic aspects of Italian grammar, which while it's harder to understand is important for anyone of any age who is trying to learn Italian. Another useful aspect of this app is that your children can choose what they want to learn from the selection of subjects available making it a more personalised learning experience. A potential drawback of this app, however, is that with the free version you only have access to a handful of lessons, the premium version costs only $4,99 which seems like a small price to pay for such a useful app. Learn Italian is available for IOS on the App Store.
Videos
Canzoni per bimbi.it
A popular Youtube Channel which is perfect for children who are learning Italian, there are a number of simple Italian children's songs, all accompanied by an animated video. The majority of the songs are known by children who speak all different languages like Old McDonald had a Farm or the Wheels on the Bus Go Round and Round, and are very easy to learn and sing along to in Italian. Each song only lasts a couple of minutes and becoming familiar with these songs can be very useful for children learning Italian as they are able to practice listening to and speaking Italian while having fun. Some of the best songs are If You're Happy and you know it and Old McDonald Had a Farm. All of the songs are free to view on Youtube and the channel regularly uploads new songs and videos, and are also available as an app on the App Store and Google Play.
Italian Fairy Tales
A great youtube channel which can help children to learn and understand some Italian through story telling. There is a large selection of famous children's fairy tales, like Hansel and Gretel or the Jungle Book, with Italian narration and English subtitles and they are all accompanied by animated videos. Each video lasts between 5 and 15 minutes, which is perfect because children can watch the videos when they have a few spare minutes, like before they go to bed or when they wake up, but they are not so long that the children will get bored. This is a great resource for children of any age who want to learn Italian as they are able to listen to Italian spoken by native speakers, but the videos and subtitles make them very easy to understand. The videos are all of a very high quality but some of the best are the Three Little Pigs, Heidi and The Wizard of Oz. All of the videos are available for free on Youtube.
Specific songs
Learning a few basic well-known songs in Italian can really help children to advance, as they are able to listen to the language and pronunciation; there are many songs which are known by children all around the world which also exist in Italian, and are very easy to learn and sing together as a family.
Heads, shoulders, knees and toes
Heads, shoulders knees and toes is a great song to use to teach children Italian as it is very fun and interactive if the children dance along. This may be more of the more useful songs to teach as it is good for children of any age, and it clearly teaches the names of certain body parts.
Happy Birthday
Happy Birthday would be a great song to learn together as a family. It is very simple and easy to pick up for children of any age, and this particular version has a lovely video of Masha and the Orso to go alongside it. Perhaps you could learn how to sing Happy Birthday in Italian and then sing it together at different birthday celebrations.
Alphabet
Learning the Italian alphabet is perhaps a good place to start as you teach your children Italian, as it will give them a good foundation to build upon. This is a particularly good song to learn the Italian alphabet with, as it teaches not only each individual letter but also a separate word for each one, like tree (albero) for a or child (bambino) for b.
Course
Online Italian Courses for Children
Our onlineItalian language courses offer young learners (from ages 7 to 12) the opportunity to study a new language and culture, virtually in classes of 4-8 students. Your child we be able to take part in a wide range of fun learning games and activities led by our native speaking teachers. A welcoming environment awaits every child who joins us on our e-learning platform, as not only are they able to chat with their teacher to ask any questions that they might have but also their fellow students to make new friends from across the world!
Would you like to meet us before enrolling your child in an Italian language course? Contact us with any questions or for a free 15-min trial lesson with one of our teachers!