In our wanderings through the streets of Florence, we are met with scents, tastes and sights that remain in the heart. This is the list of our recommendations for students who arrive in Florence.
Restaurants
Florence is the city of good food, it's amazing to see how much variety the old town has to offer.
Be very careful about addresses and street numbers: black is for houses and red is for shops. So, on this page, you will find almost only red numbers (for instance 12r means 12 red, and this is not necessarily after the black 11).
Nearby we have partnered with some excellent restaurants, always open for lunch, where you can get discounts as students of Europass:
PIZZAGNOLO, Via dell'Agnolo – 105/107 r.

TRATTORIA SAN PIERINO – Via Sant'Egidio, 13/r.
Apart from these, there are some other very good restaurants nearby, serving local cuisine or a little more experimental:
Traditional food, good price. Only opened for lunch. (Mercato centrale)
NUVOLI – Piazza dell'Olio, 15/r. (Duomo)
Very good price, also for a glass of wine and a little try of traditional food.
CAMBI – Via S.Onofrio, 1/r. (San Frediano)
Maybe not the cheapest one, but for sure one of the best place where you can try the local steak (fiorentina).
TOUCH – Via di Mezzo 42/r.
Tuscan cuisine revisited in a contemporary way, one of the most particular restaurants in Florence.
IL VEGETARIANO – Via delle Ruote, 30/r.
For vegetarians, and not, cozy restaurant with a homely atmosphere set the table by yourself and enjoy fresh and organic recipes with a good quality of local wine.
TEATRO DEL SALE –  Via dei Macci, 111/r.
Enjoy dinner and a concert in this magical place located in a former 14th-century convent in the Santa Croce neighborhood. On Sunday they also organize brunch.
Pizza
GUSTA PIZZA – Via Maggio, 46/r, 50125 Firenze FI

DIVINA PIZZA – Borgo Allegri, 50/r, 50122 Firenze FI

DA GHERARDO – Borgo S. Frediano, 57/r, 50124 Firenze FI

BORGO LA CROCE – 87/r, 50122 Firenze FI

IL PIZZAIUOLO – Via dei Macci, 113/r, 50122 Firenze
"Paninerie" (Sandwich shops)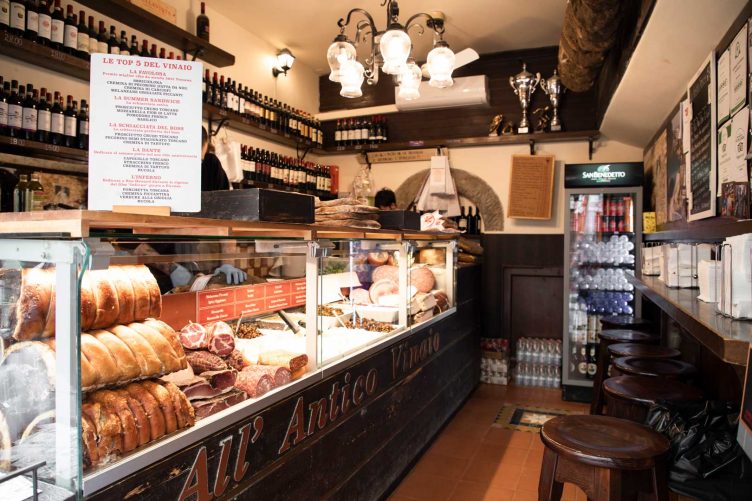 BRUNORI – Borgo Pinti, 16
A bakery very close to our academy, they prepare very big and tasty sandwiches for only 4 euros, which is rare to find in the center of the city.
ALL'ANTICO VINAIO – Via dei Neri, 74/r.
Vinaio or Vinaino means Winery. Is very common for florentine people to go out and meet in front of one of these shops to have a glass of wine and a piece of schiacciata. This one is the most famous.
VINAINO SAN FREDIANO – Borgo San Frediano, 16
If you want a good alternative to "Antico Vinaio", you can find equally great places and maybe cheaper and quieter. For instance, the little cosy one in S. Frediano will not fail you.
TRIPPAIO ("tripe sellers") DI SANT'AMBROGIO – Via dei Macci or inside the "Mercato di Sant'Ambrogio"

PUGI – Piazza San Marco, 9 B
"Aperitivo" & "Apericena" Bars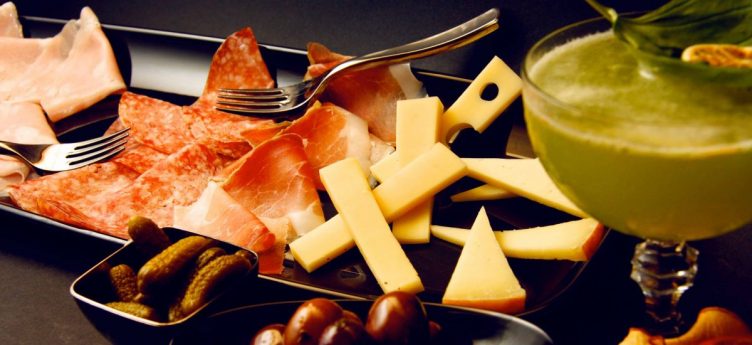 If you are into Italian culture, you should know how "Aperitivo" is a real tradition in Italy.
These are some of the best places to have an "aperitivo" and "apericena" in Florence, normally from 6.30 pm to 9.30 pm.
("Apericena" literally means "aperidinner", and it's a cheap way to try different kind of local food. You pay more than one drink but you have a free all you can eat).
NABUCCO – Via Ventisette Aprile, 28/r.
SOUL KITCHEN – Via de' Benci, 34/r.
LA LOGGIA DEGLI ALBIZI – Borgo degli Albizi, 21
Very good bar, near the academy.
QUELO BAR – Borgo Santa Croce, 15/r.
FUK – Via Giuseppe Verdi, 19/r.
LA SOSTA DEI PAPI – Borgo la Croce, 81/r
"Gelaterie" (Ice-cream shops)
"Gelato" is another thing that characterizes daily life in Italy, and Florence is quite successful from this point of view: there are really a lot of high standards "gelaterie" in the city!
LA CARRAIA – Piazza Nazario Sauro, 25/r.

GELATERIA DEI NERI – Via dei Neri, 9 – 11/r.

EDOARDO – Piazza del Duomo, 45/r.

VESTRI – Borgo degli Albizi, 11/r.

VIVOLI – Via dell'Isola delle Stinche, 7/r.

PROCOPIO – Via Pietrapiana, 60/r.

RIVARENO – Borgo degli Albizi, 46/r.
Typical Food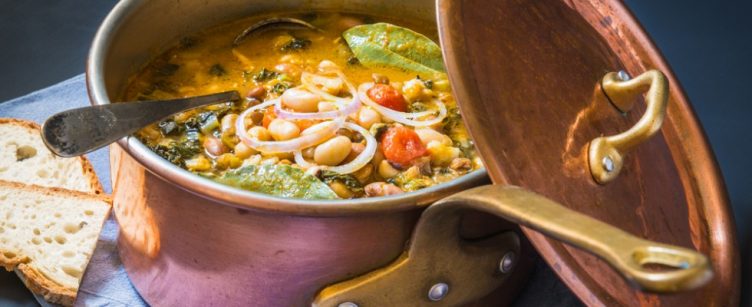 The real florentine beef steak. Don't ask for a well-cooked or a medium fiorentina, cause it'll be at your own risk. It's always rare.
Vegetarian soup mainly made with the typical black cabbage, bread and beans.
If you come to Florence you can't miss to taste this florentine speciality. It is made from the fourth and final stomach of the cow, which is typically chopped, slow-cooked in a vegetable broth, seasoned with herbs, and served on a bread roll. It is often topped with a spicy sauce or a green sauce.
Smashed bread with salt and oil. Normally you cut it and fill it with whatever you
want (cheese, meat, vegetables and sauces).
Fried sweet round bread with sugar on it and filled normally with cream. Traditionally eaten fresh-baked for "merenda" (the meal that Italian people have around 4.30 p.m.). You can try this near the academy: via Matteo Palmieri, 30/r, 50122 Firenze FI. In this place you can also try COCCOLI, another type of fried bread, salted, that is commonly eaten with stracchino (soft creamy north-italian cheese) and prosciutto (ham).
This is a very traditional dish in Firenze. It is made of beans (cannellini type) and tomato sauce, with local herbs and spices as seasoning.
It is a local charcuterie (cold cut) made of the leftovers of the pig, especially the head.
It is another type of cold cut, similar to salame (please don't say "salami", that's plural, as "peperoni" or "panini"!!!) but with fennel flavour.
Of course if you are having an aperitivo in Firenze you will try Spritz, even if this drink is from Venezia. But also Firenze has a traditional aperitivo drink: Negroni. You have to know although that this drink is really strong both as taste and alcohol content.
Shopping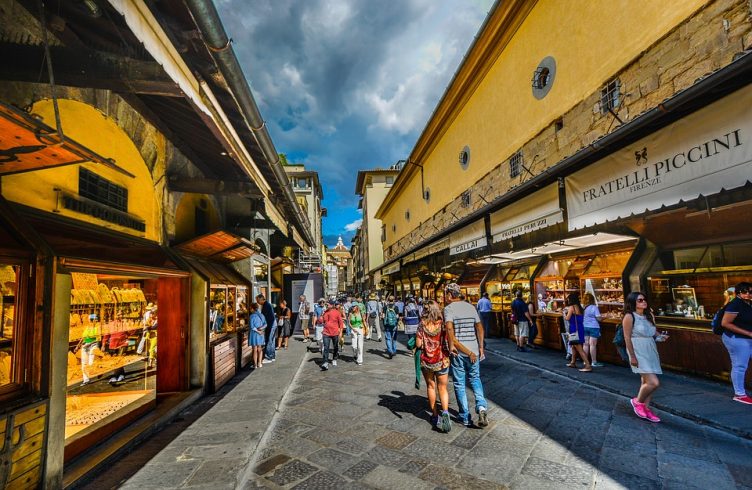 Shopping streets
The most famous shopping street in Florence, where you can find many of the top designer fashion houses in the city. With its beautiful historic buildings, your trip there is not complete without a visit to the Museo Salvatore Ferragamo.
It is a popular street filled with high-end to everyday modern stores. You'll find ultra-luxury from Chanel to department store shopping at Coin. There's also a Disney store for the kids. Furla, a famous Italian brand, is a prime choice for any of you purse lovers!
Via del Corso has almost every product you can imagine. It's lined with small boutiques that suit all different budgets so don't be afraid to explore.
Explore the authentic artisanal boutiques! Via Santo Spirito lies on the other side of the Arno River in one of our favorite neighborhoods in Florence: Oltrarno.
Florence markets
MERCATO CENTRALE – Piazza del Mercato Centrale
This is the most important city market, where you can find the typical leather products and much more.
MERCATO DI SANT'AMBROGIO –  Piazza Lorenzo Ghiberti
Located about 15 minutes from the Duomo, it has an indoor space where you can find local cheeses and vegetables, meat and fish. Outside you will also find some clothing, jewelry, and ceramic stand, as well as other antiques.
MERCATO DELLE CASCINE – Parco delle Cascine
Located in the biggest greenery of Florence, every Tuesday you can buy everything you need in one place – they sell food, clothes, shoes and much more.
Shopping malls
THE MALL – Via Europa 8, 50066 Leccio (FI)
This is a luxury Outlet that is perfect for those who are fashion addicted. It is 30 minutes far from Florence, but easily accessible with a direct bus service every 20 minutes.
I GIGLI – Via San Quirico, 165, 50013 Campi Bisenzio (FI)
The main mall in the Florentine area. It is not in the city center, you have to take Ataf bus N° 303 from Santa Maria Novella station.
OUTLET BARBERINO – Via Antonio Meucci, 50031 Barberino di Mugello (FI)
If you really want to go on a mission for shopping and buy cheap products from famous brands, you can go to this outlet, in the heart of Mugello. Here you can also have the possibility to visit the nice mountain area right outside Firenze and its known lake. Outlet Bus from Santa Maria Novella station.
Florence Squares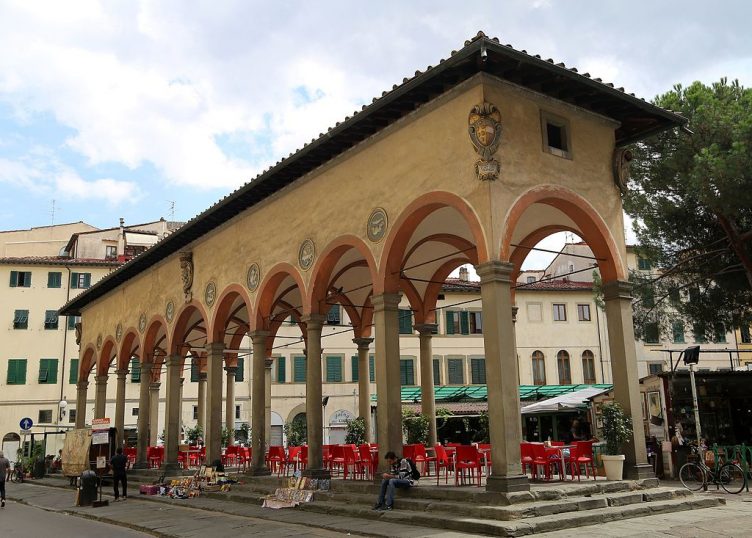 One of the most visited places in Europe and the world; here you will find Florence Cathedral with the Cupola del Brunelleschi, Giotto's Campanile, Florence Baptistry, Loggia del Bigallo, Museo dell'Opera del Duomo, and Arcivescovile and Canonici's palace.
Probably the most touristic square after Piazza del Duomo, it is the location of the cultural cafes and bourgeois palaces, such as the Giubbe Rosse cafe, which has long been a meeting place for famous artists and writers, especially those of Futurism.
Decorated by several beautiful statues from the Renaissance era, this historical square is a must for everyone visiting Florence.
Named after the Santa Croce Cathedral, it is a big, rectangular square in the center of the city. Here the Calcio Fiorentino is played every year. There are also some important buildings on this square the Palazzo dell'Antella, Palazzo Cocchi-Serristori (main office of the center of Florence quarter) and Dante's statue.
It offers the great Basilica of San Lorenzo with the Cappelle Medicee, a lively open market and the Laurentian Library.
PIAZZA SANTA MARIA NOVELLA
It is one of the principal squares of Florence with the Basilica of Santa Maria Novella. It is opposite of piazza della Stazione, and accessible by the Via degli Avelli.
Close to San Marco museum, you find this quiet spot where students come and sit on the stairs to relax. There's not much to do here, so don't expect open-air tables or shops, but there's a small and cosy café named UnCaffe – Da i' Sardo which is perfect if you want to take something to drink and eat.

This square is dominated by the pastel color façade of the church of the same name. Students and artists hang around here. And every day there's a morning market (8 am-2 pm).
Very close to Europass School, in this small square, you'll find the "Loggia del Pesce" made by Giorgio Vasari.
Florence by night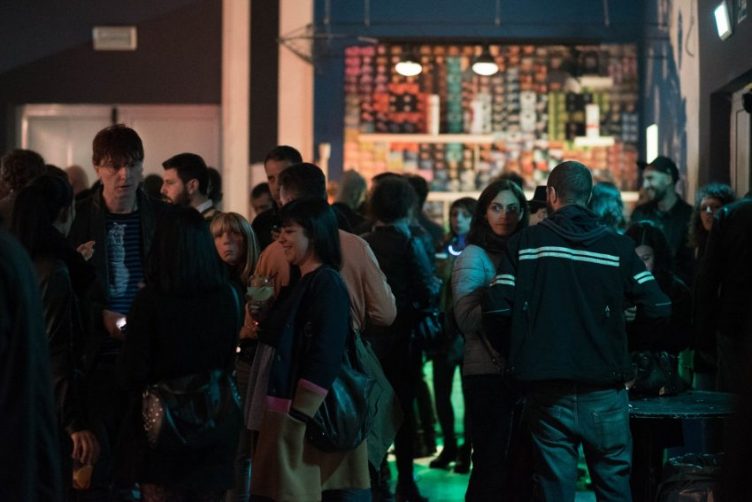 To Drink
EBY'S BAR – Via dell' Oriuolo, 5
In this popular cocktail bar, a few minutes' walk from the Dome, you can experience the real Florence nightlife rituals tasting the extravagant shots prepared by Eby himself, the funny owner.
VOLUME – Piazza Santo Spirito, 5/r.
Classic cocktails with in-house variations. Look out for live music and DJ sessions at weekends.
MAD SOULS & SPIRITS – Borgo S. Frediano, 36-38/r.
Creative cocktails with weird names such as Losco Mule (vodka and ginger beer), Donald is a Trump (bourbon and carrot jam) and Swedish Mealballs (aquavit, orgeat, fresh herbs and 'love').
SANTA ROSA BISTROT – Lungarno Santa Rosa
Open from warm summer evenings, you can drink classic mojitos or a Santa Rosa punch, the house special (black tea, vermouth and whiskey) enjoying the laid-back jazzy, Latin or bluesy tunes. Some stay for dinner where fish and seafood are a specialty.
Listen to the Music & Dance
JAZZ CLUB

–

Via nuova de' Caccini, 3
Hidden in an alley in the city center, Florence Jazz Club is a small and cosy music pub where locals spend the cold winter nights, listening to the best jazz, blues and rock 'n' roll florentine underground bands.
AUDITORIUM FLOG – Via Michele Mercati, 24 b
This underground venue in Florence is always on the move, as often organizes concerts and live music events, it is one of the florentines' favorites.
COMBO SOCIAL CLUB – Via Mannelli, 2
A place in the very center of the city (behind Piazza della Signoria) which continuously offers dance music nights. It is very popular among Erasmus students, so the atmosphere is really "international".
Warehouse-style Tenax is Florence's most edgy nightclub. With a superb sound system and varied selections of quality music, it is a great night out.
GLUE – Viale Manfredo Fanti, 20
It is an alternative concept space, managed by an association professional volunteers, which offers on the weekends very cool live music, also with international artists. You have to be a member of the association to enjoy the shows, so you have to get a card that is valid throughout the year.
Tender is a club where you can enjoy live music and DJ set nights. It is in the very center of the city, near to Santa Maria Novella station.
Arts and Museums
Florence, the birthplace of the Renaissance, is a city rich in art and the birthplace of many artists and talented men. Below is a list of the main museums in Florence and where to buy tickets.
The museum offers an inestimable collection of artworks, paintings and sculptures, mainly from the personal collection of the Medici family. The Uffizi Galleries host the most famous works of some of the most important Renaissance artists and not, such as Leonardo da Vinci, Giotto, Raphael, Botticelli, Pontormo, and Bronzino (just to mention a few).
PALAZZO PITTI AND BOBOLI GARDEN
Just a few steps from Ponte Vecchio is Palazzo Pitti, which from 1549 became the residence of the Grand Dukes of Tuscany. Palazzo Pitti houses a series of museums, such as the Palatine Gallery, with works by Raphael and Tiziano; the Royal Apartments; the Modern Art Gallery and the Museum of Fashion and Costume.
The palace overlooks the majestic Boboli Garden, one of the most important examples of the "Italian garden"
You can buy tickets to the Uffizi Galleries, Palazzo Pitti and the Boboli Gardens here.
OPERA OF SANTA MARIA DEL FIORE
The Opera of Santa Maria del Fiore or the Museo dell'Opera del Duomo is located next to the cathedral and houses artworks from the Duomo, the Baptistery and the Campanile di Giotto. One of the most important works which you can find inside are the original reliefs of Ghiberti's Gates of Paradise (Porte del Paradiso), Michelangelo's Pietà Bandini, and numerous works by Donatello.
You can buy tickets here.
The Museum of the Opera of Santa Croce is located right next to the Basilica. Here you can find works such as the great Crucifix by Cimabue and frescoes by Taddeo Gaddi and Orcagna, as well as various sculptures and paintings by Donatello.
You can buy tickets here.
MUSEUM OF PALAZZO VECCHIO
Palazzo Vecchio is of course a symbolic monument of Florence and houses extraordinary evidence of the history and art of the city. Among the masterpieces present in there, there are the majestic frescoes by Vasari that decorate the Salone dei Cinquecento, the Giuditta by Donatello, the paintings by Bronzino in the Chapel of Eleonora of Toledo and the Genius of Victory by Michelangelo.
You can buy tickets to Palazzo Vecchio and other Florentine Civic Museums here.
In the city center, nearby the Duomo and Piazza San Marco, there is the Galleria dell'Accademia (Galery of the Academy of Florence), which houses the famous statue of David by Michelangelo, whose copies can also be admired in Piazza della Signoria and Piazzale Michelangelo, and other minor sculptures by Michelangelo himself, by Giambologna, such as the Rape of the Sabines, or other Florentine sculptors of Mannerism.
You can buy tickets here.
OPERA OF SANTA MARIA NOVELLA
The Monumental Complex of Santa Maria Novella includes the civic museum and the Basilica itself. It is one of the most important churches built in Gothic style in Tuscany and it houses various masterpieces such as the Trinity of Masaccio, the frescoes by Ghirlandaio, the Crucifix by Giotto, the Crucifix by Brunelleschi and frescoes by Paolo Uccello.
You can buy tickets here.
The Bargello National Museums include Medici Chapels, Orsanmichele, Palazzo Davanzati, Casa Martelli, and of course the Bargello Museum, where you can find important examples of sculptural art. The Bargello Museums host a large collection of statues, belonging to the Renaissance period, by Michelangelo, Donatello, Luca della Robbia, Giambologna, Ghiberti and Cellini.
You can buy tickets here.
NATIONAL ARCHEOLOGICAL MUSEUM OF FLORENCE
The National Archaeological Museum of Florence is one of the oldest in Italy and hosts the ancient collections of Greek and Roman antiquities belonging to the Medici and Lorraine family, and the collections of the Etruscan Museum.
You can buy tickets here.
"Unusual" Museums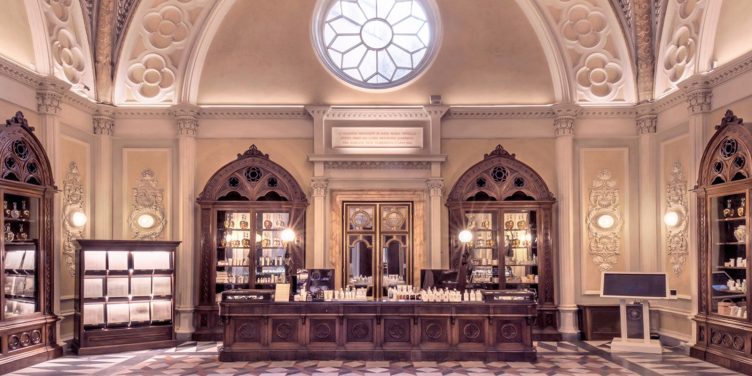 MUSEO DELLA SPECOLA – Via Romana, 17
The oldest science museum of the world, it's particularly interesting visiting the section dedicated to anatomy, with a huge ancient wax anatomical collection.
OFFICINA PROFUMO-FARMACEUTICA DI SANTA MARIA NOVELLA – Via della Scala, 16
It is the oldest Pharmacy in the world, where perfumes, lotions and remedies are still made to ancient recipes. It's worth the visit for its indoor spaces alone as it is unique, old and precious at the same time.
OPIFICIO DELLE PIETRE DURE –  Via Degli Alfani, 78
Pietre Dure ("hardstones") is the art of using the natural variegation in semi-precious stones to assemble an image. The museum displays historic examples of Pietre Dure, which includes exquisite examples of finished objects—largely tabletops and cabinet plaques, but also an absolutely massive malachite fireplace.
SALA DELLE CARTE GEOGRAFICHE –  Piazza della Signoria
There is a room on the second floor of Palazzo Vecchio, which shows 54 maps decorating cabinet fronts, alongside 237 portraits of luminaries of the Renaissance.
STIBBERT MUSEUM – Via Federico Stibbert, 26
Entering this villa-museum is a breathtaking experience and pure ecstasy for lovers of medieval warfare. The museum contains dozens of perfectly preserved sets of plate armor framed by a series of beautiful Botticelli, Crivelli, and Pieter Brueghel paintings, which themselves were chosen not for the subjects themselves but for the clothes they were wearing.
CLET'S STUDIO – Via dell'Olmo, 8
Finally, meet the author of the marvelous artistic street signs you can spot around Florence. Clet's funky style shows that Florentine art doesn't have to be old and stuffy to stay relevant and revered. The studio is situated on a corner of the San Niccolò neighborhood and is a fun place to glimpse a contemporary artist at work.
Panoramic Points and Gardens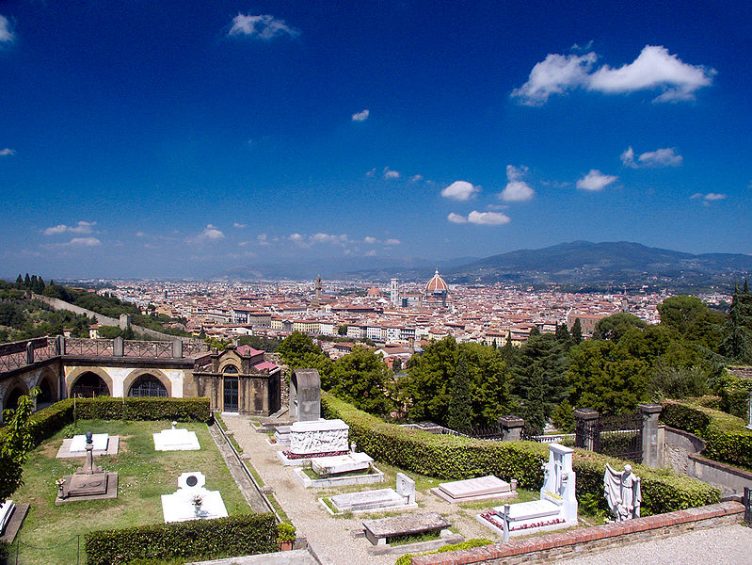 Panoramic points
If you go there, try to also visit the church of San Miniato al Monte, one of the best.
FORTE BELVEDERE – Via di S. Leonardo, 1
Form this medieval fortress you will admire the beautiful landscape, as well as take part in contemporary art exhibitions that regularly take place in the garden.
The original settlement of Etruscans, the civilization present on the Tuscan territory preceding the Romans' arrival.
VILLA E GIARDINO BARDINI – Costa San Giorgio, 2/4
Form here the view on Florence is unique, a garden situated on a hill and surrounded by medieval walls.
Gardens
GIARDINO DELLE ROSE –  Viale Giuseppe Poggi, 2
Watch the sunset from this romantic garden in the Oltrarno quarter, just under the Piazzale Michelangelo.
GIARDINO DEI BOBOLI – Piazza Pitti, 1
A Medicean garden in the heart of the city, with lots of beautiful trees, plants and fountains, where you can relax on the grass or just admire the beautiful Florence view.
GIARDINO DELL'ORTICOLTURA – Via Vittorio Emanuele II, 2
A quiet spot where you can chill out while admiring Florence's skyline. Featuring a huge nineteenth-century greenhouse, it hosts flower markets, and during summer it becomes an outdoor pub, with a kiosk, and concerts every night.
PARCO DELLE CASCINE – Piazzale delle Cascine
The Parco delle Cascine (Cascine Park) is a monumental and historical park in the city of Florence and the biggest green area of the city. Besides the monuments, Cascine Park also offers some big fields where you can relax.
GIARDINO DEI SEMPLICI – Via Pier Antonio Micheli, 3
It's a botanical Garden of the 14th Century and is part of the University of Natural History of Florence. It displays a remarkable collection of medicinal plants.
Outdoor Trips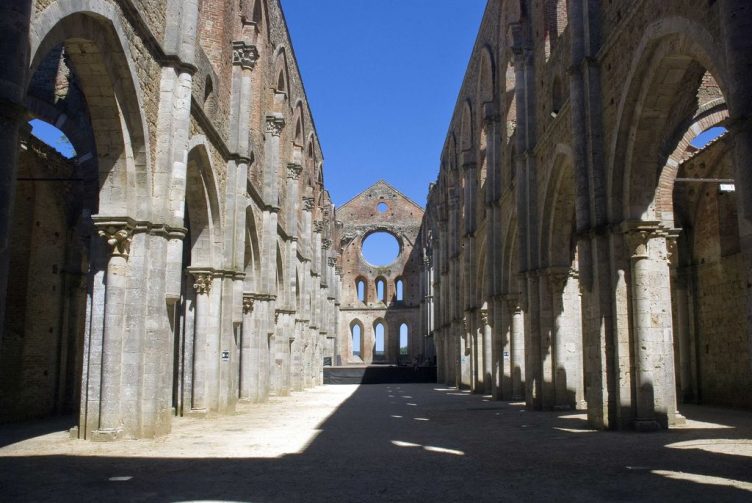 Hiking Tour from Settignano to Fiesole
There are a lot of organized tours for a walk from Settignano to Fiesole. This wonderful itinerary will give you a snapshot of the richness and beauty of the countryside surrounding Florence.
Walk off the Beaten Path through "Le Balze"
Immerse yourself in the landscapes that inspired Leonardo da Vinci! You should organize a walk through Le Balze, one of the most beautiful and fascinating areas of Tuscany. Retrace Leonardo's steps and discover the sceneries depicted in the Mona Lisa.
If you like driving, you should rent a car for a day and visit this magical 11th-century abbey immersed in the Tuscan hills, just 1.30 hours from Florence.
Two important historical towns in Tuscany and not-to-be-missed sights for anyone visiting the region! Close together, yet very different in personality.
Perhaps the most romantic city in the world made up of 118 islands and connected by 350 bridges!
Visit to Siena and San Gimignano
Magnificent examples of Medieval art and architecture in the heart of beautiful Tuscany, and both are UNESCO world heritage sites.
Best of Tuscany: visit to Montepulciano, Montalcino and Pienza
Some of the most beautiful countrysides in Tuscany, with cypress trees, hay bales, rolling hills and vines: It's no surprise that the directors of New Moon, Gladiator and Under the Tuscan Sun chose Montepulciano as one of their key filming locations.
A postcard-worthy backdrop as you hike through the hills of the region of Liguria. Five towns perched on the rocks, joined by spectacular trails, through vineyards and steep terraces.
The beautiful Piazza dei Miracoli with its Leaning Tower is one of the most famous piazzas in the world, and a UNESCO World Heritage Site since 1987. Pisa is a city of art and culture, also famous for its past from the Maritime Republic.
The picturesque Tuscan countryside, with olive groves and vineyards, and a visit to a charming wine estate, the magnificent fortress of Monteriggioni, and the town of Castellina in Chianti.
"Cooking with friends" workshops
The opportunity to quickly discover the traditional Italian culinary universe. A simple dinner to prepare together, in a warm environment, where it's easy to make friends.
Ferrari Test Drive in Florence
If you are keen on driving, explore the Florentine hills in style on this 8, 12, 18, 20, 22, or 70  kilometers Ferrari drive with a personal driving Tutor